Unimex Process & Energy Group
Sustainable solutions in energy & environment
Products
Customer benefits from integrated solutions
Efficient as well as optimal use of energy
In-depth process and application knowledge of heat recovery systems
Delivering without time or cost overruns
We sell brand new and second hand food processing equipment. Visit the Unimex Inter Trade website for more information.
Supply and installation of the following:
Absorption Cooling
Thermax pioneered vapour absorption technology in India and continues to be the leader in this field. This technology uses heat, in place of electriciy, for cooling. With the growing power crisis, move towards distributed power, planned phase out of the CFC/HCFC based refrigerants and growing concerns about global warming, absorption cooling has emerged as a viable alternative to conventional electrically powered options.
And, with water being used as the refrigerant in this process, not only does absorption technology have zero ozone depletion potential but it also rules out any future conversion cost. Besides, it also reduces green house emissions by an unbelievable 50%.
Thermax offers the largest product range in the world, designed to suit every process chilling and air conditioning as well as custom requirements. Today, vapour absorption technology from Thermax is at work for clients in the pharmaceutical, chemical, fertilizer, textile, petrochemical and automobile industries as well as in hotels, cinema halls, shopping complexes and office buildings.
Thermax also offers CHPC (Combined Heating Power and Cooling) solutions for greater energy efficiency.
Steam Fired Machines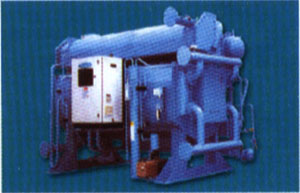 Prochill

Range: 50 NTR - 1400 NTR
Steam pressures: 3.5Kg/cm2g - 10.5 Kg/cm2g
Application: Ideal for process and comfort cooling
Hot Water Fired Machines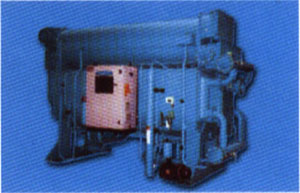 Prochill

Range: 100 NTR 1400 NTR
Hot water temperatures profile used: 70 Deg C - 200 Deg C
Application: Ideal for any process and comfort cooling
Cogenie

Range: 10 NTR - 80 NTR
Application: For microturbine and diesel generator (COGEN)
Direct Fired Machines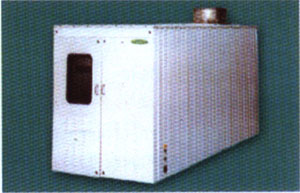 Ecochill & Ecochill+

Range: 40 NTR - 1100 NTR
Steam pressures: 0.5 Kg/cm2g - 8 Kg/cm2g
Application: Ideal for any process and comfort cooling