Unimex Process & Energy Group
Sustainable solutions in energy & environment
Products
Customer benefits from integrated solutions
Recovery of waste heat for heating, cooling and power generation
Generation of power and heat from one fuel source
Energy maximisation schemes through fuel optimisationa dn system configurations
Product recovery from particulate emissions and effluents
We sell brand new and second hand food processing equipment. Visit the Unimex Inter Trade website for more information.
Supply and installation of the following:
Boilers & Heaters
Thermax is the leader in packaged boilers, process heat recovery systems and power boilers. A position that has been acquired on the strengths of cutting edge expertise, continuous innovation, extensive client base and rich experience.
The Thermax range of boilers are designed to burn an entire gamut of fuels, including biomass and heavy liquid fuels. Extensive and successful research on the combustion of over 100 different fuels (unmatched anywhere in the world) has led to over 20,000 installations globally.
Among the many small and medium industries, as well as Fortune 500 giants, where our boilers and heater offer customised solutions are utilities, refineries & petrochemicals, paper & pulp, textiles, fertilizers & chemicals, steel & other metals, sugar, cement, food and drugs & pharmaceuticals.
Package Boilers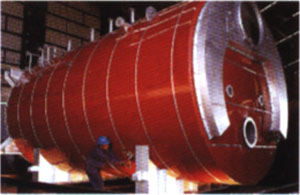 Oil, Gas

Coil Type, Forced Circulation Boiler: 50-850 kg/hr
Smoke Tube Boiler: 1-30 tons/hr

Solid / Biomass

Smoke, Water Tube hybrid Boiler: 4-30 tons/hr
Integral Furnace Boiler: 1-5 tons/hr
Integral Furnace Boiler: for Coal, Lignite and Wood
Thermal Oil / Water Heaters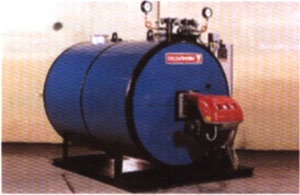 Oil, Gas

Thermal Oil Heater: 0.1-20 million kcal/hr
Hot Water Generator: 0.1-20 million kcal/hr

Solid / Biomass

Thermal Oil Heater: 0.2-20 million kcal/hr
Thermal Oil Heater with Integral Hot Water Generator 0.2-20 million kcal/hr
Energy Recovery Systems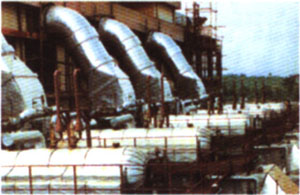 Waste Heat Recovery Systems

Process integrated boilers for process industry: 1-200 tons/hr
Waste heat boilers: 1-200 tons/hr
Heat recovery units - Engine/Turbine" 30-50,000 kW
Waste heat recovery units: 5-100 MM ckal/hr
Gas turbine heat recovery steam generators: Frame 6 Turbine

Fired Systems

Fired heaters for petrochemical & refinery applications: 01.2-100 MM kcal/hr
Tail gas fired boilers: 4-200 tons/hr
Steam flooding boilers: 5-100 MM kcal/hr
Large Capacity Power Boilers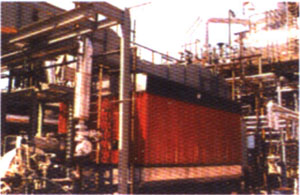 Oil, Gas

Floor mounted package boilers: upto 158 tons/hr
Radiant boilers: upto 400 tons/hr

Solid / Biomass

Atmospheric fluidised bed combustion, circulating FBC, travagrate, pin hole grate, dumping grate boilers: upto300 tons/hr